Our vision is a world where financial stability is attainable while facing a life-threatening medical diagnosis.
Our Mission
Building on Love, Inc. is a 501(c)(3) non-profit with a mission of helping families in our community who are facing a life-altering medical condition.  We do this by providing financial support to serve as a bridge and assist with essential living expenses. Building on Love also partners with local organizations and several Ronald McDonald House Charities chapters to further our mission.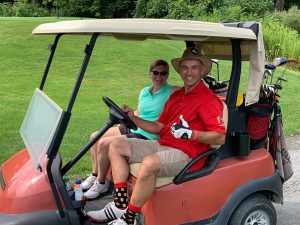 Diane & Jerry Abdelour enjoying our 2019 Golf Outing.
History
Our founding mission was to help support families of ill children that are staying at one of partnering Ronald McDonald House programs. Building on Love's original mission was to support families whose child's medical emergency resulted in a financial burden on the family by paying a pressing bill or help with a new expense related to their child's medical condition. 
Building on Love, Inc began providing grants to the Albany, NY Ronald McDonald House in 2009 and expanded our network of partnering Ronald McDonald House programs to 13 locations. 
In 2019, our board of directors, voted to expand our work to provide financial support to individuals residing in the Greater Capital Region diagnosed with a life-altering condition.
Our focus is to help families in the days and weeks following diagnosis so we can help ensure they do not fall behind.  We help with non-medical bills such as mortgage/rent payments, auto payments and repairs, insurance, necessary home repairs, groceries, gas cards, etc.  These grants provide a temporary financial bridge to families allowing them to focus on the health of their loved one and family and plan for their financial health as well.  Building on Love will also collaborate with local organizations and our partnering Ronald McDonald House Charities chapters to further our mission.
Building on Love was incorporated as a 501(c)3 in 2009 by our founders Jerry and Diane Abdelnour, owners of J&J Service. You can learn more about the Abdelnours and how Building on Love came to fruition in this feature story which ran in Success Magazine in 2012.