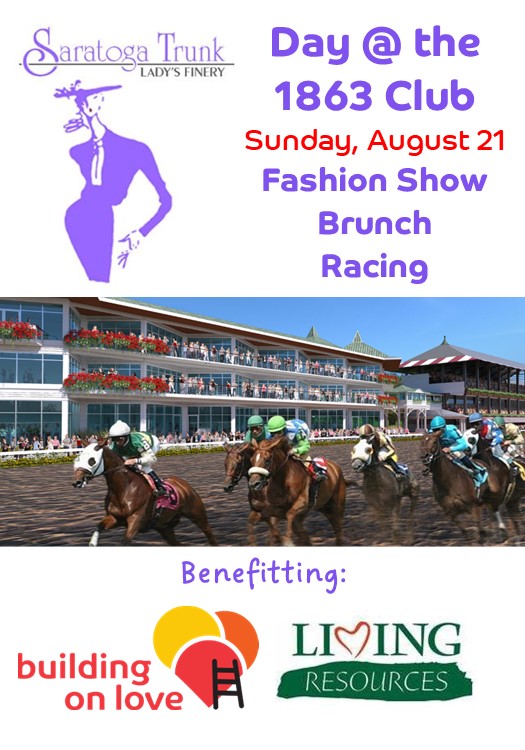 This year, Building on Love, Living Resources and Saratoga Trunk have teamed up to create a one-of-a-kind world class celebration at the historic Saratoga Race Course.
We are humbled that Natalie Sillery and Saratoga Trunk brought us together; offering to present a world class fashion show in Saratoga Race Course's 1863 Club on Sunday, August 21, 2022 in support of our two causes . In addition to the fashion show, our guests will enjoy a fantastic brunch, a day of world class racing at the beautiful Saratoga Race Course and some great surprises throughout the day, all while supporting Building on Love and Living Resources' world class causes. The doors open at 11:00 am, and your day does not need to end until the last race is complete.
We are excited to be sharing the stage with Living Resources in this endeavor. We will retain all sponsorship and ticket revenue that Building on Love solicits while all funds raised the day of the event will be split between our organizations. 
Thank you to our Honorary Committee Members
Event Co-Chairs:
Betty Taylor*
Roger Grout*
Honorary Committee Members:
Jerry & Diane Abdelnour*
Jeff & Alison Abdelnour*
David Abdenour
Kristin Abdelnour*
Evelyn Anastos (featured designer)
Bill & Cindy Callahan*
Candace Calvin (model)
Mary Clark, Jr.
Gary & Judy Conlen
Kenneth Ellis &
Carrie Rowlands Johnson
Kenneth Ellis Family Foundation
Mary Ferguson (model)
Jennifer Fogg / Logan Strong Foundation
Sandra Fox
Michele Funiciello (model)
Josef Gialil / Gialil Foods
Brian Granger & Melissa Ethier (model)
B.G. Lenders Service, LLC
Roger Grout & Linda Herron*
Anita Hanaburgh
Beverly Jochynek
Carolyn Karlson /
Starting Gate College Consulting
Allison Keib / Keib Capital Enterprises, LLC
Mark & Lookmee McBee
Trina Lucas (model)
Dr. Mark Moreau / Saratoga Smile Care
Ryan Mortka &
McKenna Robinson (model)
Mr. & Mrs. Peter Mortka
Robert and Lisa Moser Family Foundation
Georgie Nugent (model)
Karen Paulo (model)
Jessica Petraccione (model)
Laura Petrovic (model)
Susan Phillips
BJ Pierce (model)
Vicki & Richard Pitbladdo
Geoff & Laurel Plante*
Tara Anne Pleat (model)
Renee Reardon & Jeff Garry / TRMAC
Emily Shalant (featured designer)
Theresa Skaine (model)
Elaine Sillery (model)
Joe & Betty Taylor*
Jane Trinidad-Hennes (model)
Melissa Ward-Rathbun (model) /
NewWard Development, LLC
Fawn Vandenburg / Fawn MUA
Helen Watson
Joni Sarah White (model)
Gerard & Heather Wise (model) /
Railroad Place Partners, L.P
Jeff & Patti Yule
Lorrette Zoitos
*board member